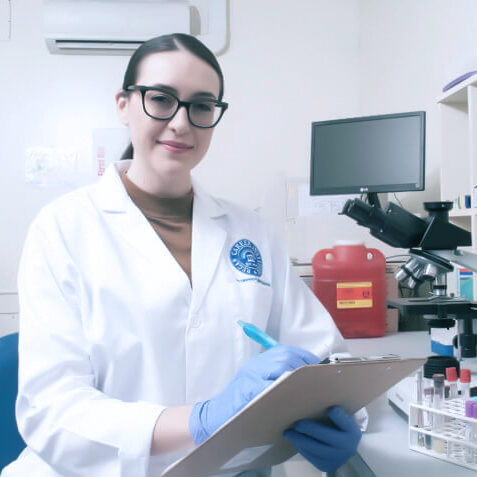 What Does a Medical Lab Technician do? 
A Medical Laboratory Technician performs essential clinical laboratory testing procedures, providing crucial scientific information for disease diagnosis, prognosis, and treatment. From specimen collection (phlebotomy) to analyzing patient samples, MLTs use advanced instruments for quantitative and qualitative chemical and biological analyses of body specimens. They are also trained to operate and troubleshoot medical equipment, working under qualified supervision. 
Who is the Course for? 
This program prepares students for a Medical Laboratory Technology career through studies in humanities, social and natural sciences, and the broader field of Medical Laboratory Technology. Emphasis is placed on clinical practice within laboratory medicine. Graduates can take a nationally recognized certification examination. For more insights on getting into the medical field, check out this helpful article. 
What is a Medical Laboratory Technician AAS Degree Option? 
Upon successful completion of our standard MLT program, you'll be eligible to seek California MLT licensure. This program is approved by the California Department of Public Health, and you can take the MLT board exam after course completion. With our MLT degree option, you also have the choice to earn your Associate's degree in MLT with an additional 4-6 months of schooling. (Please call for AAS Degree Program availability)
How Do I Get Started? 
To start your journey, simply contact the RCI admissions office at 213-398-8838 or email [email protected]. Participate in the RCI admissions process and have your transcript evaluated based on specific standards.** Applications are considered in the order they are received and after all official transcripts are received. Those individuals accepted into the program will be notified. You must meet the prerequisites to be enrolled in this course. 
Prospective students need an AA degree or at least 60 semester (90 quarter) units from an accredited college or university before entering the MLT program at RCI. Transferable coursework must consist of at least 36 semester units of physical and biological sciences, with an emphasis on applied clinical science. Coursework should include 6 semester units of chemistry and 6 semester units of biology, transferable to a baccalaureate program in science, taken before or concurrently with training or experience. 
Prerequisites found in MLT Course Info below.